Popular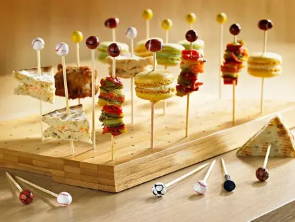 Popular Eco-Friendly, Disposable Dinnerware
At any gathering, it is understandable to want to provide your guests with a unique dining experience using the highest-quality supplies. That's why we present you with our most popular items all in one place, so you can find exactly what you're looking for. Some of the eco-friendly disposable dinnerware at Bio and Chic include food boats, cones, mini dishes and tasting spoons.
The food boats made from different types of wood are sleek and functional, making it easy to display your culinary creations and tasty sweets. Our cones, featured in Martha Stewart Living, are available in soft wood, dark bamboo leaves, and even paper. These make eating fries, apple slices, or even veggies fun, as they are easy to carry around during a picnic or BBQ.
Elegant But Strong
From organic woods with vertical or horizontal grains to porcelain-like sugarcane, our eco-friendly disposable dinnerware will impress everyone with their natural elegance. They'll love knowing these dishes are being recycled or going back into the environment via composting. In addition, all of these materials are durable and can withstand both hot and cold temperatures. This means you can serve anything from burgers to sushi and pasta to fruit.
Trendy Designs
On this page, we offer unique, disposable dinnerware and baking supplies that are popular among brides, event planners, and bakers. So, whether you're serving 10, 300, or any number of individuals, shop Bio and Chic for tableware none of them will forget.