Bamboo Mini Square Plate 2.3 inch - 24 Pcs Pack
Why use a flimsy paper plate for your next event when you can set the table with impressive square bamboo plate instead? Bio and Chic has a whole host of small disposable bamboo plates that are biodegradable and more durable than their soft paper competitors. Square shapes are more visually appealing, so take advantage of the latest trend, as well.
Comely Convenience
Traditional paper plates you find at local retailers aren't typically pretty. They aren't very functional, either. In contrast, a square bamboo plate from Bio and Chic won't let you down in the middle of dinner. Bamboo plates are so sleek and aesthetic, you might not want to switch back to your day-to-day dinnerware. With our bulk options, you don't have to!
Our plates are microwavable, allowing you to easily heat up your food or leftovers without affecting the integrity of the plate. They're also grease-proof, so they stay strong when you serve up burgers and fries or spaghetti and meatballs, among other dishes.
See how a square bamboo plate stacks up against regular paper plates. Grab yours today!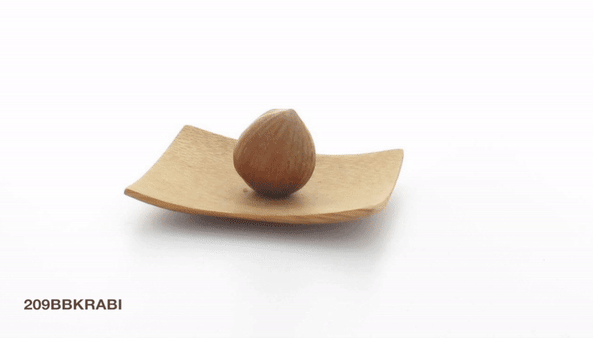 SPECS
Made of Bamboo
Size (inches): 2.4 X 2.4"
Microwavable: Yes
Grease Resistant: Yes
Leak Proof: Yes
Cold Food: Yes
Hot Food: Yes
Biodegradable: Yes
Disposable: Yes
Product Code: 209BBKRABI
Designed for Hot/ Cold food
TRUE
Case Weight Lbs Gross
2.87
BPI Compostable certified
No
Write a Review
These have a very nice look and feel and were perfect for serving my appetizers. Also they arrived very quickly!

Great

Great...!

Great..!!